Newsletter XVII - UNEP flagship report "Global Chemicals Outlook II" highlights JRC work on chemical and Natech accident risks
On 29 April 2019, the United Nations Environment Programme (UNEP) released the first update report – entitled "Global Chemicals Outlook II - From Legacies to Innovative Solutions: Implementing the 2030 Agenda for Sustainable Development" - on the current situation surrounding the sound management of chemicals throughout the world.
This 700-page report (the first edition of which was published in February 2013) takes an unprecedented look at the manufacture and use of chemicals globally, their importance to national and global economies, and the costs and negative effects on human health and the environment of unsound chemicals management, with recommendations for future action.
At the World Summit on Sustainable Development in 2002 in Johannesburg, countries committed to minimizing the adverse effects of chemicals by 2020. This "2020 goal" is reiterated in Target 12.4, under Sustainable Development Goal 12 (Responsible Consumption and Production) of the UN's 2030 Agenda for Sustainable Development, which was adopted by the UN in 2015.
The Global Chemicals Outlook II (GCO-II) is a wide-ranging report covering not only current challenges in traditional areas of chemicals risk management, such as substance identification and classification, waste management, pollution control, worker and community exposure, and process safety, but also linking current and future problems and solutions with economic development and trade, technological progress, population growth, climate change and other influential factors. The GCO-II has a five-part structure:
I. The evolving chemicals economy: status and trends relevant for sustainability.
II. Where do we stand in achieving the 2020 goal - assessing overall progress and gaps.
III. Advancing and sharing chemicals management tools and approaches: taking stock, looking into the future.
IV. Enabling policies and action to support innovative solutions.
V. Scaling up collaborative action under the 2030 Agenda for Sustainable Development.
The GCO-II was prepared over the past three years, involving over 400 scientists and experts around the world, including the JRC's Major Accident Hazards Bureau (MAHB) and Natech (natural hazard-triggered technological disasters) experts. In this regard, the JRC contributed substantially in Chapter 6 ("Chemical risk management in facilities and during production") of Part III (see above), particularly in Section 6.1 ("Understanding and addressing the risks of chemical accidents"). Here, the JRC helped UNEP to shape the discussion on the challenges in analysing and sharing lessons learned, as well as the summary of the current status of efforts to understand and manage Natech accident risks.
Chapter 6 also makes several references to the JRC's scientific work in chemical and Natech accident risk management, citing its studies of past accidents, and its contributions to developing hazard rating and capacity-building indices. Chapter 6 also cites a number of collaborative projects and studies on emerging issues - such as UNEP's Flexible Framework for Chemical Accident Prevention Project and the UN Office for Disaster Risk Reduction (UNISDR) "Words into Action" guidelines to support national implementation of the Sendai Framework - in which the JRC's MAHB and Natech team were leading contributors.
The GCO-II full report is complemented by the GCO-II Summary for Policymakers (which was tabled as a working document of the 4th session of the UN Environment Assembly) and the GCO-II Synthesis Report. The entire GCO-II publication can be found at the web-link below.
Maureen Wood and Elisabeth Krausmann
European Commission, Joint Research Centre (JRC)
For more information:
www.unenvironment.org/resources/report/global-chemicals-outlook-ii-legacies-innovative-solutions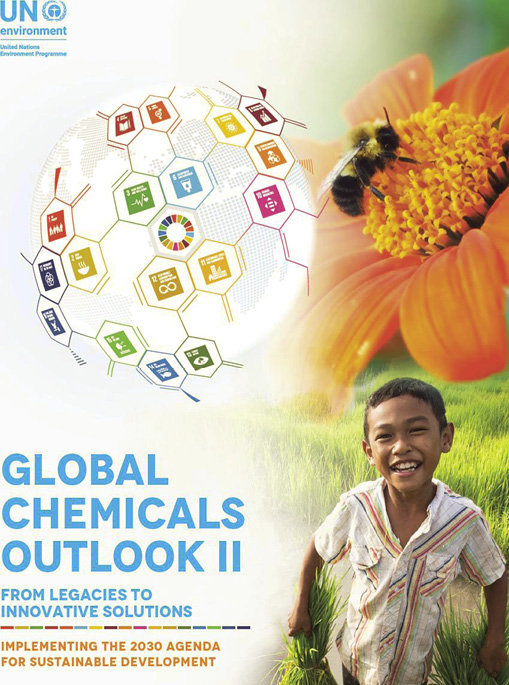 ---
Other news